TINE® Norwegian Gouda slices
TINE® Norwegian Gouda dates back to 1859 and is it's famous for its mild and round taste, good melting properties and high quality. It's loved by Norwegians of all ages. It's available in a variety formats and nutritious and tasty versions. TINE® Norwegian Gouda is a versatile cheese and pair well with many foods. It's perfect on bread, sandwiches, toasts or as a snack. Enjoy in pasta, pizza, taco, casserole or gratin dishes.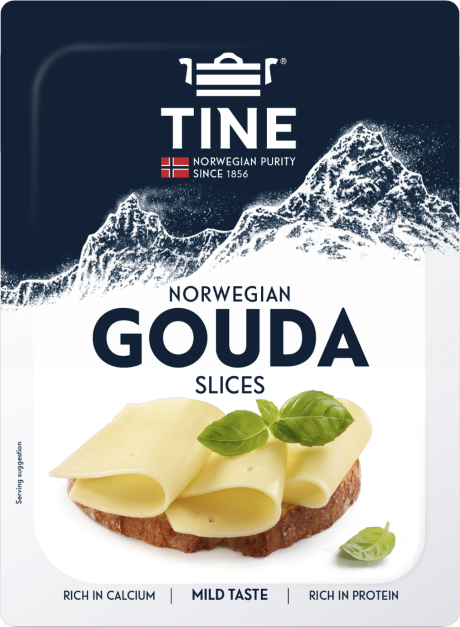 Ingredients
Pasteurized cow's milk, bacterial culture, salt, microbial rennet
Storage
Store at 0 °C - 4 °C.
Nutritional content per 100 g
Energy

1458 kJ (351 kcal)

Protein

27 g

Fat

27 g

- Saturates

17 g

-Trans-fatty acids

0,6 g

Carbohydrates

0 g

-Sugars

0 g

Sodium

480 mg

Calcium

820 mg

Vitamin A

300 µg

Vitamin B2 (Riboflavin)

0,31 mg

Vitamin B12

2,4 µg

Vitamin K

45 µg

Zink

4,6 mg

' of the reference value
Weight
120g