TINE® Brunost™ Sweet spread
TINE® Brunost™ Sweet spread has a golden brown color and a soft silky spreadable consistency. The delicious caramel taste is sweet and rich. It's natural nutritious and rich on calcium. Enjoy it as a delicious snack with crackers, bread or toast. It's perfect as an ingredient in e.g. cheesecake and baked goods.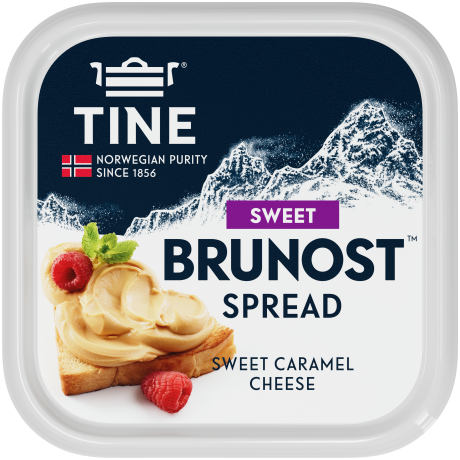 Ingredients
Sweet rennet whey, 9 % sugar, milk fat, aroma and preservative (sorbic acid).
Storage
Store at 0 °C - 4 °C.
Nutritional content per 100 g
Energy

1197 kJ (284 kcal)

Total fats

8 g

- Saturated fat

5,2 g

-Trans-fat

0,2 g

Carbohydrate

46 g

-Sugars

42 g

Protein

6,7 g

Sodium

320 mg

Calcium

363 mg

Phospohorus

430 mg

Potassium

1233 mg

Thiamine

0,22 mg

Riboflavin

1,12 mg

Vitamin B12

1,0 µg

' of the reference value
Weight
150 g