TINE® Brunost™ Mild block
TINE® Brunost™ Mild is a milder version of our original caramel cheese and it's made from 100% elite cow's from Norway. Its unique caramel taste, smooth and creamy consistency and a perfect balance of sweet and salty makes it a perfect pairing with other food. Grate it over your croffle, pancakes, ice cream, dessert, patry, coffee og just enjoy it as a snack.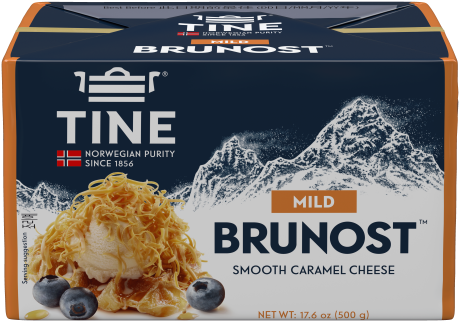 Ingredients
Sweet whey, pasteurized cows milk and pasteurized cream (48g per 100g). All ingredients are of Norwegian origin.
Storage
Store at 0 °C - 4 °C.
Nutritional content per 100 g
Energy

1792 kJ (430 kcal)

Fat

26 g

- Saturates

17 g

-Trans-fatty acids

0,69 g

-Cholesterol

73,20 mg

Carbohydrate

38 g

-Sugars

33 g

Protein

11 g

Sodium

0,35 g

Salt

0,9 g

Vitamin A

252 µg

Thiamine

0,18 mg

Riboflavin

1,02 mg

Folic acid

51µg

Vitamin B12

1,9 µg

Panthotetic acid

2,5 mg

Kalium

1425 mg

Calcium

545 mg

Phospohorus

610 mg

Magnesium

80 mg

Molybdenum

29 µg

' of the reference value
Weight
250 g, 500 g, 1000 g