TINE® Brunost™ Original slices
TINE® Brunost™ Original is the original Norwegian caramel cheese. Its origin dates to 1863, in the valley of Gudbrandsdalen, Norway. TINE® Brunost™ Original is made with a mixture of elite goat's milk and cow's milk. Its unique caramel taste, smooth and creamy consistency and a perfect balance of sweet and salty makes it a perfect pairing with other food.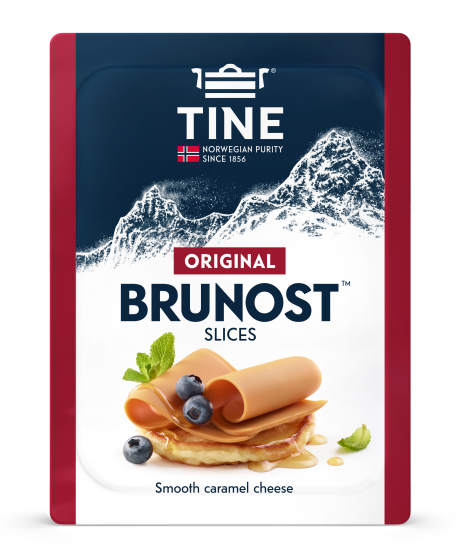 Ingredients
Sweet whey, pasteurized goat milk (144 g per 100 g cheese), pasteurized cream, pasteurized milk
Storage
Store at 0 °C - 4 °C.
Nutritional content per 100 g
Energy

1832 kJ (440 kcal)

Fat

28 g

- Saturates

18 g

-Trans-fatty acids

0,70 g

-Cholesterol

79,69 mg

Carbohydrate

37 g

-Sugars

31 g

Protein

10 g

Sodium

0,29 g

Salt

0,72 g

Vitamin A

258 µg

Riboflavin

1,1 mg

Vitamin B12

1,3 µg

Panthotetic acid

1,8 mg

Kalium

1233 mg

Calcium

463 mg

Phospohorus

513 mg

Magnesium

71,3 mg

Selenium

10 µg

Molybdenum

21 µg

Iodine

166 µg

' of the reference value
Weight
130g